StoryBook Trail

What is a StoryBook Trail?
A StoryBook Trail combines the joy of reading and the Outdoors! As families walk the recently completed Paved and ADA compliant walking trial that connects Shenango Area Schools with the Shenango Community Park, they read a book one page at a time.
This months book is: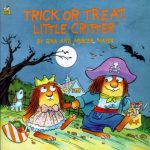 Trick or Treat Little Critter
By: Gina & Mercer Mayer
A Special Thank You to the Reamer Family for being the Sponsor for October 2020.